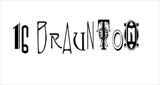 liverpool, UK
We make statement magical head wear & jewellery. Think bold, exotic, eclectic pieces with sparkly girlie...
Semi Precious Stoned Treasures!
We have been busy here at 16 Braunton HQ and loving our new Boutique!
We are just getting over the Asos Sale! We have been so overwhelmed with all your purchases!
We are starting to make some new pieces and getting ready for our next shoot. At the moment we are obsessed with semi precious stones and these beauties have been flying out! We have some left on www.16braunton.com Keep checking for new listings. We are going to make some more don't worry!