VAT No: GB944153722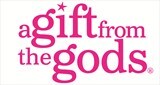 London, UK
Every woman is A Gift From The Gods and deserves some heavenly clothing and accessories. It's a Dream...
Our New Boutique
We're excited to have launched our very own ASOS Boutique and look forward to bringing you lots of fabulous items through our store.
As a thank-you to new customers, we're offering a free Union Jack Shopper Tote on all orders. This versatile bag features our A Gift From The Gods logo in the design and has many uses, including shopping, study and the gym.
So Get Your Goddess On with this free tote on all orders.