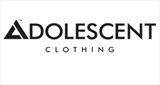 HERSHAM, UK
Adolescent Lifestyle is all about making a statement, having an opinion. Our limited edition designs...
Exciting Times
When we set out to launch Adolescent Clothing, we always had a dream of it to grow and connect with people. None of us were quite prepared for just how quickly though it was actually going to happen. Thanks to the love and support from so many people, Adolescent Clothing is on the verge of becoming a household name, and we are really excited about our new range launching this month.
Because we listen to all of our followers we have been able to create some really special products, and they are only the tip of the iceberg. Every single one of our new designs and product is personally designed to ensure that it connects with whats current and happening on the streets right now.
No random slogans, but phrases that actually we can connect with, that are relevant to right now.

We hope that we can continue to design clothes that connect and mean something to everyone, because we are all about the here and now. Thank you for your continued support and long may it last.