Top Rated Seller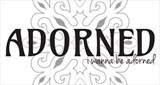 Nottingham, UK
A mother-daughter duo who love to play Bowie full blast. Ethical, affordable + independent.
Thrifty Thursday!
Hey guys…
Do you wanna be adorned for less? Well our Thrifty Thursday is bigger and better than ever before! All of our necklaces have had their prices slashed for one day only. Take a look at what you could grab (including some new-season pieces!)
Head on over to our shop to grab these and many, MANY more for up to 40% off!
Stay adorned,
Sarah and Margarita x