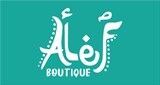 Berlin, Germany
Welcome to Alef Boutique! The go-to destination for unique and standout sterling silver jewelry. We carry...
New In: Sterling Silver Stone Bracelets
JUST IN: These cute boho-style sterling silver beaded bracelets are now available! All with natural Agate stones. Available colors: Blue, Pink and Green.
Visit our storefront now to shop these new bracelets! For custom sizes, contact us!