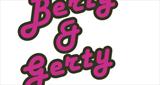 Portsmouth, UK
Berty & Gerty Home Of Vintage Accessories.
Camouflage Neon Goth
Berty & Gerty Vintage always like drifting up Camden high street and looking at all the different fashion styles clashing…Emo Vs Casual, Tourist Vs Goth etc. At the moment we are loving the contrast between camouflage and neon. There's a lovely friction between staying hidden and being as
garish as possible. Get your camouflage and wear it to your local amusement arcade and see what we mean!