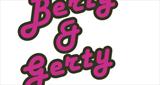 Portsmouth, UK
Berty & Gerty Home Of Vintage Accessories.
Music & Art Blogger Fumie C Kikuchi Modeled for Berty & Gerty!
This striking quirky music & art blogger from Japan agreed to model for Berty & Gerty Vintage last week, after dropping into our Camden shop for a quick peek, Gerty jumped at the chance to photograph this lovely lady, but she wasn't the first photographer to be captivated by Fumie's style it seems the Evening Standard got there first with an article on dip-dye fringes. Here are Gerty's fav images from the shoot.