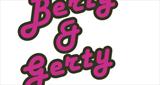 Portsmouth, UK
Berty & Gerty Home Of Vintage Accessories.
Old Bags
Berty & Gerty Vintage are big fans of old bags. We adore a bit of lined skin, the more lined the better, this certainly adds 'bags' of character. Yes, vintage old bags are so very versatile with their many compartments and sturdy handles, this makes them a must for everyday use; so very functional. There's so many styles to choose from, but we do like a large leather tote, dangling off a couture ladened arm, such an instant statement.
If it's security that's important go for a long strap and wear this across the body. Our first choice would be a tan leather saddle bag with a buckle fastening.
For sheer glam and visual impact look to the 80's for opulence, there are so many unusual bags from this fab decade. Here are some of the many bags we have in our collection and some of the great bags coming to the Berty & Gerty Vintage collection soon: