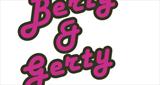 Portsmouth, UK
Berty & Gerty Home Of Vintage Accessories.
Totally-On Trend Wayfarer Style Shades
Wayfarer Sunglasses the perfect accessory for summer 2013
The original wayfarer shades were designed in 1956 by Ray Ban. Loved throughout the decades for their strong masculine look. Here are a few of our totally-on trend wayfarer style shades. Wear with a '50s prom dress for a more feminine look.