FREE UK SHIPPING! CODE: BDVSHIPME
Check out our other boutique YIFY ›
VAT No: 163147421
Top Rated Seller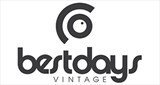 Colchester, UK
FREE UK SHIPPING! EU SHIPPING FROM £2.95. Follow Us on Instagram @BESTDAYSVINTAGE for 15% off your first...
Mans Got Hot
With the warmer weather appearing over the weekend we thought its best to start talking about the latest spring summer trend.
SEQUINS! like a magpie I'm all over this. Not just popular at your end of year works party, sequins are a big hit for all those festival heads. Hot pants, jackets, bumbags whatever tickles your fancy.