FREE UK SHIPPING! CODE: BDVSHIPME
Check out our other boutique YIFY ›
VAT No: 163147421
Top Rated Seller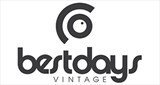 Colchester, UK
FREE UK SHIPPING! EU SHIPPING FROM £2.95. Follow Us on Instagram @BESTDAYSVINTAGE for 15% off your first...
Positive

(3072)

Neutral

(29)

Negative

(11)
Retro Adidas T-shirt
Vintage Chunky Patterned Cardigan
Vintage Disney cartoon print t-shirt

Vintage Cardigan with Grunge Knit Pattern in purple
Vintage North Face Fleece Jacket in Grey embroidered logo
Vintage Barbour Knitted Jumper in Blue

Vintage Fleece 1/4 zip with ribbed design in Red

Vintage Adidas Tee Shirt in Orange

Vintage Umbro England football Sweatshirt in Red.

Vintage Timberland 1/4 zip Fleece in Black with Logo.

Vintage M&M's Disney Graphic T-shirt in Black

Vintage USA Football Club Sweatshirt in Red.

Vintage Sweatshirt with Embroidered USA Souvenir Logo

Vintage Oversized Knit Jumper in blue

Vintage Graphic T-shirt Florida Print in Blue

Vintage NFL USA Football Top in Green
Vintage Columbia Jacket in Black

Vintage Tommy Hilfiger Shirt in beige check

Vintage CHAPS shirt blue striped.
Vintage Columbia Outdoor Jacket in Blue