Check out our other boutique YIFY ›
VAT No: 163147421
Top Rated Seller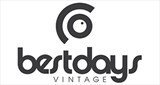 Colchester, UK
FREE UK SHIPPING! EU SHIPPING FROM £2.95. Follow Us on Instagram @BESTDAYSVINTAGE for 15% off your first...
Positive

(3057)

Neutral

(29)

Negative

(11)

Vintage NFL USA Football Top in Green
Vintage Columbia Jacket in Black

Vintage Tommy Hilfiger Shirt in beige check

Vintage CHAPS shirt blue striped.
Vintage Columbia Outdoor Jacket in Blue

Vintage Champion Sweatshirt with graphic prints.

Vintage North Face zip up fleece Blue with embroidered logo
Vintage Barbour Quilted Gilet in Blue

Vintage Chaps Shirt in Beige with Logo relaxed fit.

Vintage CHAPS 1/4 Button Knitted Jumper in beige.
Vintage Denim Jacket in White with back print

Vintage Padded Checked Flannel Shirt in Red.

Vintage Nike Tee Shirt.
Vintage K-Way Oversized Windbreaker Jacket in Red

Vintage Knitted Cardigan retro pattern

Vintage Columbia 1/4 zip fleece blue with embroidered logo.
Vintage 1/4 Zip Adidas Fleece in Beige with Embroidered Logo

Vintage Cardigan with Knit Pattern

Vintage Cardigan with Knit Pattern

Vintage Hawaiian Shirt with Pineapple Print