Check out our other boutique YIFY ›
VAT No: 163147421
Top Rated Seller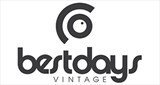 Colchester, UK
HELPING YOU LOOK AND FEEL GOOD. Free UK shipping! Follow us on instagram @bestdaysvintage for 10% off...
Positive

(4120)

Neutral

(37)

Negative

(20)

Vintage Corduroy Shirt in Beige.

Vintage Columbia Fleece in Orange

North Face Zip Up Bomber Jacket in Grey.

Vintage Ralph Lauren Jumper in Red with Logo
Vintage NIKE Sweatshirt with Stripes and Logo

Vintage Champion UNI t-shirt in red with print.

Vintage abstract pattern shirt.
Vintage 90s Pattern Shirt In Green.

Vintage Aztec Shirt With Faux Shearling Lining .

Vintage North Face Fleece in Beige with Logo

Vintage Ralph Lauren Shirt in Blue with Logo .

Vintage Corduroy 90s Shirt in Black Check .

Vintage Teddy 90's Fleece in Blue
Vintage Chaps Jumper in Brown with Logo

Vintage Fleece with Zip in Grey.

Vintage Tommy Hilfiger Striped Shirt in Blue.

Vintage Harley-Davidson Shirt.

Vintage US Hoodie With Graphic Print In Blue

Vintage Cream 1/4 Zip Sweatshirt with Utah Embroidery
Vintage Dragon pattern shirt in brown.