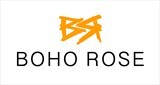 London, UK
Follow us on Insta @bohorose1 // In-house London designed & made swimwear, outfits & jewellery for...
There's a Whole Lot of Goodness Coming...
There's a whole lot of good stuff coming to the boutique this June & July, here is a tiny taster! We have all bases covered – from the ever changing weather here in the UK, your Summer holiday and your festival wardrobe! Items are dropping in as of NOW so check in regularly.
Happy Shopping!
BohoRose x