Top Rated Seller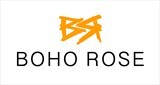 London, UK
Follow us on Insta @bohorose1 // In-house London designed & made swimwear, outfits & jewellery for...
Wilderness Festival - Sunday Job Available!
We are looking for someone to work on our stall at The fab Wilderness Festival on Sunday 12th August. The festival is in Oxfordshire so you if you live nearby then this is ideal, otherwise you must be willing to travel. You should be reliable, trustworthy and have had some retail experience. You will receive payment plus a few free items from the stall!
Please message us or email bohemianrosevintage@gmail.com for more info.