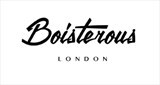 london, UK
Boisterous London is an eclectic mix of handpicked vintage and in-house design garments for the fearless RELEA...
Boisterous Glamour hearts festivals
Here at Boisterous Glamour we heart festivals! and with what better way than Coachella to kick off the festival season. We've collated our favorite pieces (which happen to be all dashiki oops) from our SS14 collection!!
we cant wait for summer <3 and music!!
enjoy love bg xx