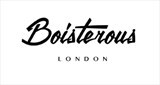 london, UK
Boisterous London is an eclectic mix of handpicked vintage and in-house design garments for the fearless RELEA...
Spring Summer 2015 Aura Festival Collection
We are back again with our new Spring Summer 2015 collection inspired by the Aura opalite crystal. The crystal is believed to attracts positive light energies to your being, It aids sexual prowess, it gives us strength. Aura opalite heightens physic abilities, stimulating and activating your third eye chakra. The crystal empowers women, we have drawn inspiration from this to create a collection with a strong female silhouette, form fitting pencil skirt, crop tops, empowering the female body. The fabric and prints inspired by the light energies, vibrant colours, of pink, purple, green. Symbolic images of the third eye chakra, all mixed in with boisterous glamours adrogynous aesthetic.