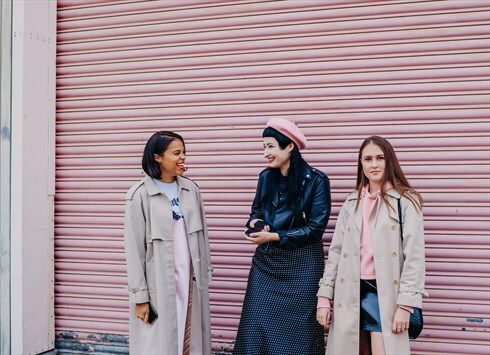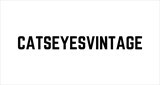 Peterborough, UK
Handpicked Vintage pieces for the modern female who loves trends but is also confident in her own style...
Sustainable Fashion with Cat's Eyes Vintage- Guest post by style blogger Alice Hope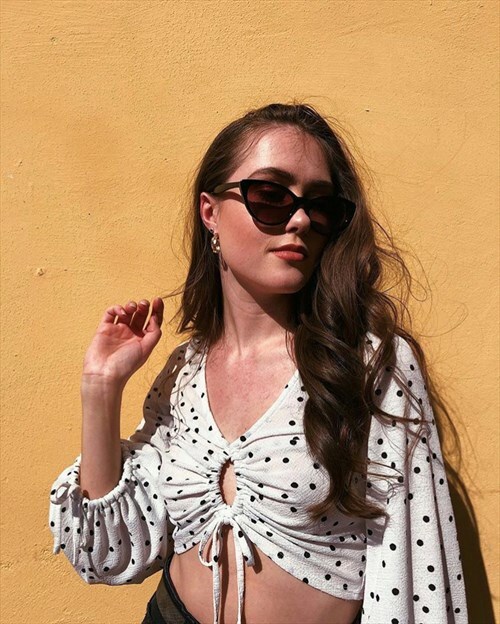 As bloggers, we have all realised at some point or another that trying to come up with consistent content is much more difficult than most of us had first anticipated. With the ever-growing size of the Instagram and the blogging community, comes the ever-growing pressure to produce new and exciting content on a regular basis. So whilst some people may scoff and think: 'but all you do is take photos', we know ourselves that the process is much more than just that.
But in an era of fast fashion, where we are driving to create new looks and styles every day, is there any room for sustainability? Climate change is becoming an increasingly prominent issue in our daily lives, and the impact of human action on our planet is increasingly devastating. If you have been following my blog for a while then you will know that I am a champion of Primark fashion, so it would be entirely hypocritical of me to claim that I shop sustainably. However, if you have read my post on Flexitarianism then you will know that I have started to reflect upon my every day choices, which is why I'm so excited about the brand I am about to share with you!
Cat's Eyes Vintage is an independent boutique found on both Instagram and Asos Marketplace boasting 'handpicked Vintage pieces for the modern female who loves trends but is also confident in her own style'. Owner Cat Patterson sources, styles and re-homes beautiful vintage pieces and her vibrant collection is to die for! I had been admiring her pieces for a while so when Cat offered to send me one of her items as a gift, you can imagine how excited I was!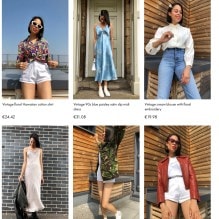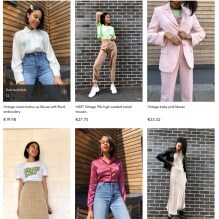 After much deliberation, I chose my favourite piece and it was shipped to my house in no time- arriving in cute little packaging with a handwritten note and free hair clips! After receiving the package, I couldn't wait to style it up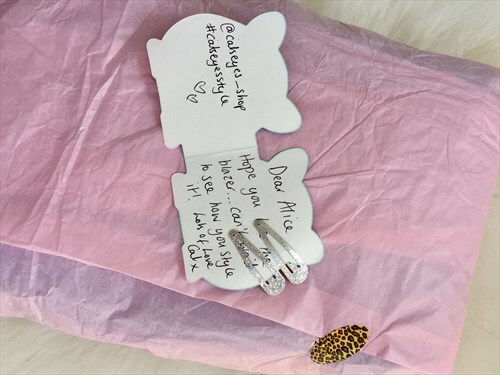 The item I chose was this gorgeous blue blazer. I was obsessed with the colour as soon as I saw it, and immediately envisioned a full outfit. The blazer comes up a little oversized on me and I am loving that style at the moment!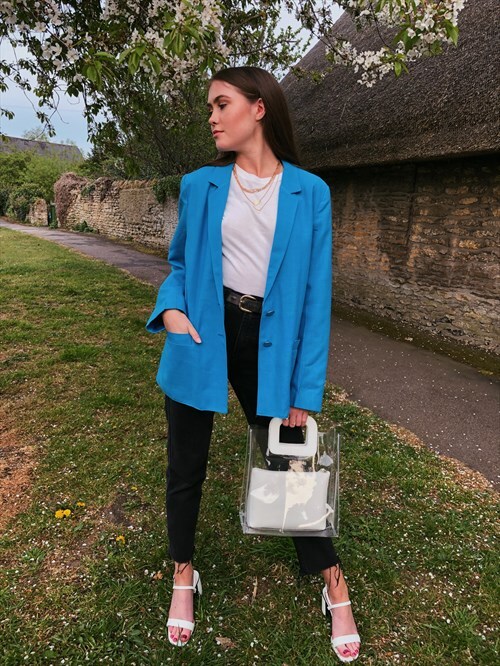 With the majority of my outfits, I like to start with a simple base and build from there (aka, you will pretty much always catch me in a white t-shirt and jeans). With the bold colour of this blazer I knew I wanted to keep the rest of the outfit fresh and understated. So, once again I turned to my trusty combo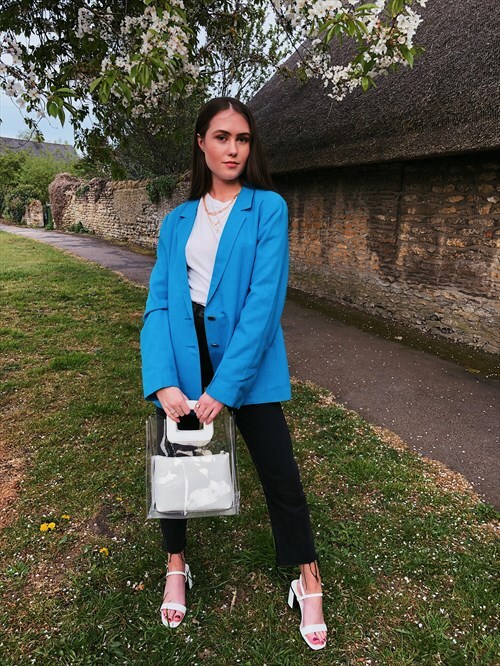 As we are diving headfirst into spring/summer, I am too diving headfirst into my obsession with white accessories. I love the way this white bag contrasts with the blue of the blazer, and I think the shape of it perfectly compliments a tailored outfit.
These shoes are also going to be a summer staple for me. I have already featured them on my blog once and you can most definitely expect to see them again. The sandals of the season, they are the perfect height for daily wear, yet they still make your outfit that little bit more glamourous. These accessories tie in the white theme in this outfit all the way from head to toe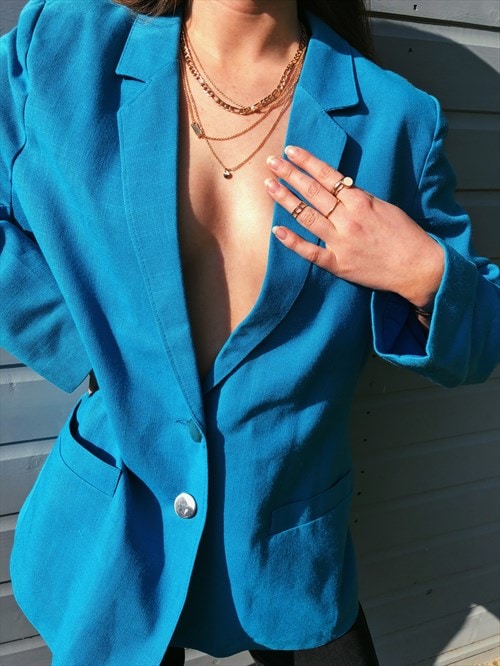 When it comes to statement pieces, I like to focus on the little details, so of course, I layered up on the jewellery with these pretty little necklaces from Primark and a selection of gold rings. This blazer can be a day or night piece and I love it without anything underneath it for an evening look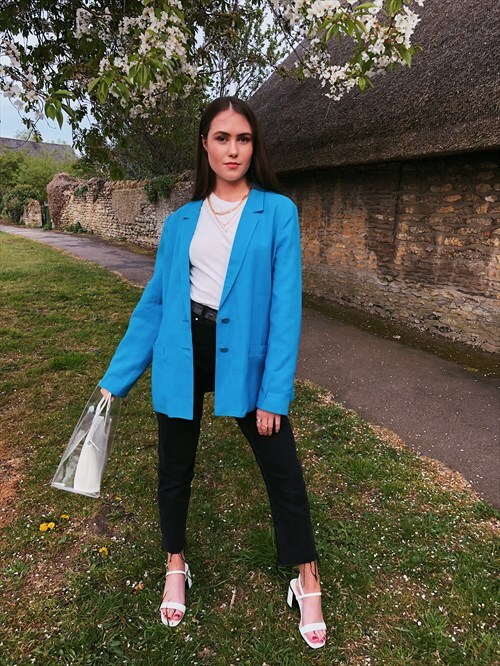 When it comes to charity and vintage shopping, thrifting can sometimes get a bad rep. The chaotic layouts, the somewhat offensively patterned shirts and what is that weird musty smell coming from the clothes?Finding a diamond in the rough can be a tiresome task, but that's why Cat's Eyes Vintage does it for you. Admittedly, I am quite a stranger to vintage shopping, but these boutiques make it so much easier!
In our current climate, it's important for all of us to start thinking about how sustainably we shop. Fashion has an inevitable and wonderful habit of coming back around every few years, so you can always find great vintage items that still fit in with todays trends.
So in a nutshell, if you love vintage, unique clothing and are interested in sustainable fashion, then you can find it at Cat's Eyes Vintage- all wrapped up in a friendly, personalised service!
This was my first ever gifted post which is very exciting for a little blogger like me! If you'd like to check out more outfits like this then take a look at my Instagram @alicehopem
Do you think sustainability is possible in the blogging community? I'd love to know what you think!