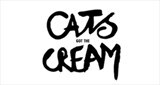 angmering, UK
NEXT DAY DELIVERY ON ALL UK ORDERS. GIIIRL GET IT FOR THE WEEKEND! WE SHIP WORLDWIDE. (Orders bought...
12 days of chrisms free giveaway!
We are giving away 12 items over christmas to celebrate the 12 days of christmas, first winner announced on CHRISTMAS DAY through to January 5th 2015!
Don't miss out click and join now!
CATS GOT THE CREAM TEAM
XOX