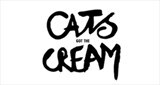 angmering, UK
NEXT DAY DELIVERY ON ALL UK ORDERS. GIIIRL GET IT FOR THE WEEKEND! WE SHIP WORLDWIDE. (Orders bought...
Totally 90's!
We have just this second listed our BRAND NEW tie dye acid wash jumpers. But wait…. what's so new and interesting about a tie dye jumper? Well we like to keep it cool and collected here at Cats Cream studio so we've done some experimenting.
Forget the traditional tie dyeing, look we have mixed it up dying only a small part of the jumpers- the sleeves! We love them and feel they completely reflect the 1990's era.

If you like the idea of a tie dye jumper but don't want to go too crazy these are perfect. Throw on all year round, we've styled them for summer with a short skater dress by American Apparel and grape jordans.
COLOURS AVAILABLE: MINT, BUBBLEGUM, BLUEBERRY, FIRE, & SKY