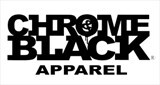 London, UK
Chrome and Black started on a shoestring budget in 2008 by two prolific London graffiti artists. Originally...
Chrome & Black AW18
This seasons drop showcases the colourful range of Chrome & Black Diagram T-shirts inspired by London Underground blueprints and infrastructure.
The colours are picked in the same way that a graffiti artist would choose colour for a piece, so often colour combinations in the ranges have a lineage into the heart of the graffiti experience itself.
These T-shirts are available in 10 different colour-ways with limited stock so grab one whilst you can!