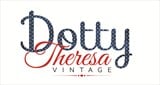 Ilford, UK
One woman's trash is Dotty Theresa's treasure! Welcome to the Vintage-Modern-Clash :)
Dotty's Live!
Hello ASOS Marketplace and vintage lovers! Please allow me to introduce myself… I am Dotty the avatar for Dotty Theresa Vintage. We've been on an exciting journey and the 11th February was a very exciting day indeed! Today we launched our brand new boutique on ASOS Marketplace! It was a white knuckle ride for a while and went a bit 'Pete Tong' [cockney rhyming slang for wrong!] but now it's all sorted and we are up, running and ready for business!
So what do we do I hear you asking? Well, we sell beautiful vintage items – some truly vintage [1940's/50's] but mostly retro [1960-90's). We don't sell items just because they're in fashion, we sell items that are special! We're thoughtful of the fabrics used and the design and cut of each piece. We believe that your style tells your story, so we're champions of uniqueness and individuality, however that is put together and worn.
So, now you know a little about us, we'd like to hear about you! You can find us on Instagram / Twitter : dottytheresa and Facebook : dottytheresavintage
Pop by and say hello, we'd love to meet you!
Even if we don't get to meet you just yet, we'd like to invite you to celebrate our launch on ASOS Marketplace by using promo code: DOTPOST for FREE postage until 22nd February 15!
That's it for now, but next time let's do tea!
Dotty x