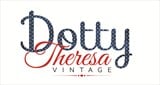 Ilford, UK
One woman's trash is Dotty Theresa's treasure! Welcome to the Vintage-Modern-Clash :)
The Great British Weather!
What's the Best Coat for Sub-Zero Temperatures?
The weather's changed (again) and hopefully we're coming out of the freezing cold snap and Spring will be out to play soon! That said, we do rather like the cold as we LOVE a good coat! Particularly sheepskin…
The Dotty Theresa Vintage team cope with the cold once it's dry and sunny. So this recent freezing spell had us all in a tizz, because it was sooooo COLD! We were trying to smile on Sunday afternoon during a photoshoot and our faces nearly fell off! They definitely cracked a little bit, that's for sure!
We've come to the conclusion that only sheepskin will save you in sub-zero degrees weather! Sheepskin is perfect because the shearling keeps you warm and insulated and yet you won't boil to death on the train, as it's a natural, breathable fibre.
Sheepskin is also classic and won't date, so you can bring it out year, after year, after year! Whether you choose full length, curly lambskin, cropped or an aviator style, a sheepskin coat is a definite investment. We obviously recommend opting for a vintage or preloved coat as it'll be much cheaper than buying a brand new one!
You can browse our collection of sheepskins, anytime :) www.tinyurl.com/dottytheresa
Love always,
x Dotty & Alena x