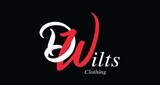 Huddersfield, UK
DWILTS Clothing is a brand which was created by Dean Wiltshire, he caters for male and females. The...
THE NEW TWO PIECE BY DWILTS CLOTHING.
DWILTS Clothing has just released a new two piece set in grey, it's a shorts and t-shirts set with a zip on t-shirt which gives the set a smarter look, or a casual look. DWILTS Clothing has many styles which can be simply dressed up or down and this two piece is certainly one of them. Many more styles coming from us this autumn/winter.
Thank you