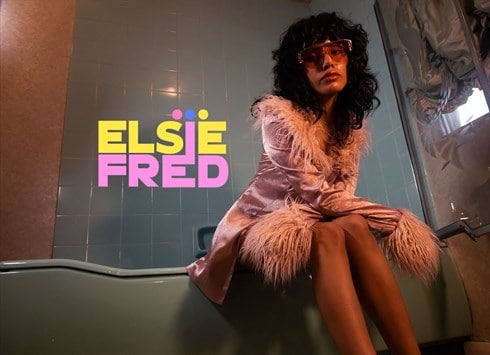 VAT No: 261102848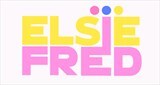 LONDON, UK
Our company believes in the most empowered, fiercest version of you 🔥 We're on the quest to dress...
Jungle Punch is BURNING UP BABY.
Stars are on fire. They burn from the inside out otherwise they couldn't be seen… and oh boy, does this collection NEED to be seen.
Here at Elsie & Fred, our heads were turned when we came across the fashion massive trend that is Psychotropical. Naturally, our existing graphics and brand imagery seem to lend itself to the tone, style and aesthetic of the trend. But you know us, and we like to TURN. IT. UP.
It's not a dream unless you dream big, so we set to converting our little courtyard space outside the studio into an exotic paradise. Astro turf engulfing the floor to the walls, bolstered with full tropical-esque foliage squares, finessed with everyone's favourite Ikea plants. The directors got all DIY on us and painted a massive door (with several layers or several hazard orange paints) even attaching a lion head door knock. Can't say we're not alllll about that extra flare babes.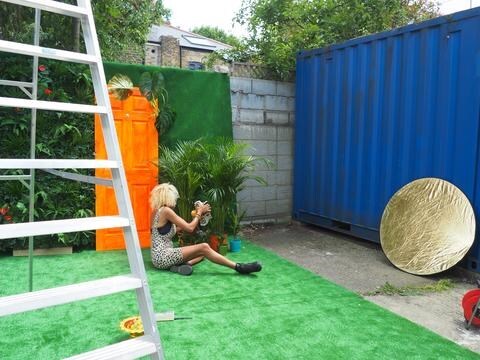 Creative direction is all about sharing a vision, and the vision was only getting clearer. We attached fabric cut offs to the plant pots, we got the most stylish orange bench around, managed to bag an vintage mobile phone and even ransacked the Argos catalogue for a palm print sun lounger. Accessories? You better believe that we had a whole room dedicated to that stuff. Sunglasses galore, Public Desire bagging us some mega sleeeeeeek shoes, we were READY.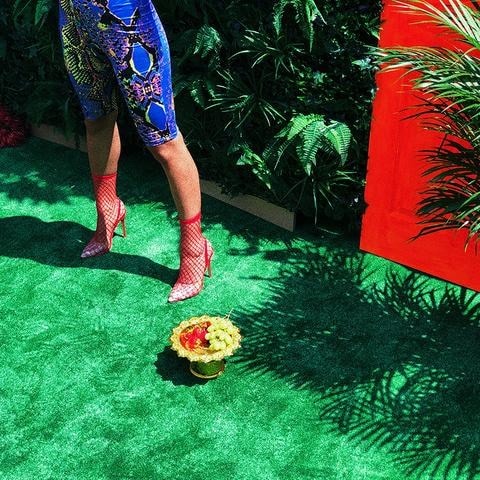 What's a shoot without a banging playlist? We gotta keep the vibes high, for the model and for the team. But with this beaut heatwave blessing us with amazing weather, everyone was already buzzing.
Ryan worked his magic yet again with the camera. But we wanted this collection to really be ALIVE. Past all of the edits and product shots, we wanted something so true to the inspiration of this collection that another promo video needed to happen. Our intern, Meve, had a lil experience in video editing and took on the creation of our hyper realistic mega exciting video.
To shoot the video, Meve took inspiration from the INSANE Kenzo 'Electric Jungle' video showcasing their prints. For a bit of personality, she looked to Tyler and The Creator for that comic, American-dream, block colour narrative in his feature in Kali Uchis', 'After the Storm' and his Golf Wang signature aesthetic. Our model, Florence, pulled some super sassy expressions, partied like she was in Ibiza, rolled around on the floor, came jumping out from behind plants all whilst looking absolute FIRE.
Following some absolutely bang on creative direction, Meve created some graphics to add effects to mirror and ultimately staple the song choice of 'Burning Up' by PICNICTYME to the collection. Coupled with Kate's super juicy Look Book development, these graphics paved the way for the Jungle Punch branding you've fallen in love with over the last few weeks.
JUNGLE PUNCH from Elsie & Fred on Vimeo…
You definitely feel like you're in a whole other world with this vid. Everything about it points to the future for festival fashion, and so does our collection.