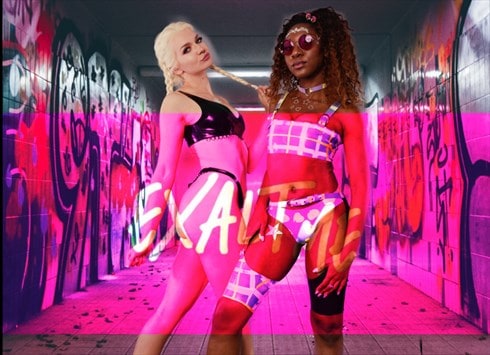 Salford, UK
EXALT. (verb) to raise in rank, power, or character. To praise or speak highly of someone or something...
4 ways to wear our nude bodysuit.
Wanna know how to style up our most fave bodysuit that ever existed?! Here's the list of our most loved looks, may as well just add it to your cart right now!
Just because it's 2020 and every festival ever is cancelled, does not mean you can't dress like it's a festival every day at home. Throw on your best wig, chunky necklace and pair it with some cut off vintage Levi's. "Glasthomebury" is a winner in our eyes!
Go all out, wear it solo. Think like you're in Ibiza at golden hour, cocktail in hand relaxing by the pool at Ocean Beach. Add some sick sunnies and a blow dry and you're good to go. The stuff actual dreams are made of.
Smarten it up. Pair our bodysuit with your coolest two piece suit and your best nude heels. Think date number 3 vibes. You'll look all kinds of chic with a little extra Exalt Me sass.
Go punk! Add your boldest statement trousers, biker jacket and your trustee OG Dr Marten's.
Whichever version of you that you want to be today, the nude bodysuit looks sh*t hot.