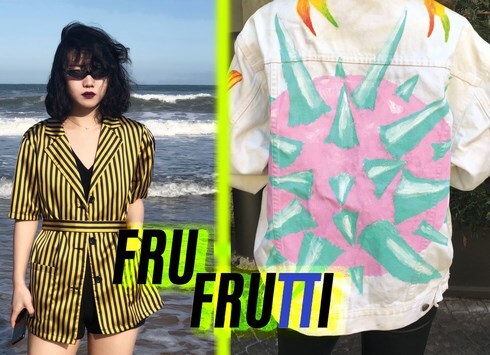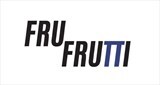 Milan, Italy
FRUFRUTTI is a wonderland made by three girls with totally different backgrounds but met each other in...
NO RIVALS, Things to know - An interview to Raniero Berardinelli and Amanda Est
By ChihChi Wang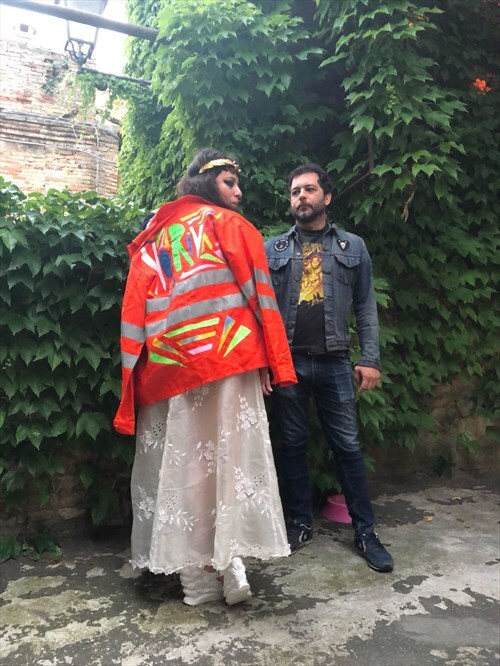 There are five vintage denim jackets, which in my opinion, are the luckiest jackets in the world at the moment. They are chosen by a Rome based duo team. Re-worked and hand-painted by artist Raniero Berardinelli; programmed and launched by one of the coolest women in the old, romantic and fascinated capital of Italy, Amanda Est.
NO RIVALS, name of this special project, which was started as an experiment but now becomes a serious dream to pursue. NO RIVALS, things to know and things to read.
5 RE-WORKED ACRYLIC PAINTED DENIM JACKS MADE THE MINI COLLECTION OF NO RIVALS THAT YOU TWO LAUNCHED IN EARLY 2018 IN ROME. WHAT EXACTLY IS THE THEME OF "NO RIVALS" PROJECT, WHY THIS NAME?
This project was born by a collaboration between an artist and an architect/designer, with deep knowledge in the vintage clothing, and passion for the work. When we started to create the collection, we imaged a bunch of wired and crazy people who wear our customized jackets with no fears. "NO RIVALS" is then the perfect name for this "gang", and so the right name for our project.
AS A PAINTER, A VISUAL ARTIST AND A DRUMMER, WITH SO MANY DIFFERENT IDENTITIES AT THE SAME TIME HOW DO YOU ACTUALLY DEFINE YOURSELF? ANY SECRET ONES WE HAVEN'T KNOWN YET?
RB: I am a painter, but besides oil painting, I am also very fascinated in all kind of visual arts such as creating posters for gigs, t-shirts and cover design for music albums.
HOW ABOUT YOU AMANDA? TELL US SOMETHING MORE ON YOU. WE KNOW YOU ARE THE OWNER OF A SUPER COOL VINTAGE-SECONDHAND SHOP CALLED "VIA DEL GOVERNO VECCHIO 35", WHAT'S YOUR DAILY ROUTINE TO BE THAT AND WHAT ELSE YOU REPRESENT TO?
AE: I am always very into fashion and have a big passion for clothing since I was little, and that made me start to work in a vintage-secondhand store in Rome from my teenagerhood. I have majored in architecture and this brings me to amplify my interests to art and design.
IS THERE ANYTHING IN COMMON BETWEEN YOU TWO BESIDES BOTH OF YOU WERE BORN IN ROMA?
We share our interests! We both love vintage clothes, creative works, art, design, and music. Actually, we bump into each other very often in the same music and art happenings in the town, and this is one of the reasons why we are friends privately in addition to being a working partner.
WHAT KIND OF OPPORTUNITY IS IT FOR YOU TO GET THE IDEA OF COLLABORATING IN CREATING NO RIVALS?
We want to discover new creative opportunities and of course have fun.
WILL YOU CALL NO RIVALS A BRAND OR AN EXPERIMENT?
It's an experiment now, but we believe it and love the results that we are having up to now, so it's facing to be a brand.
MEDIOEVO, ABYSS, FOOD, FIRE, AND DRAGON ARE THE NAME OF 5 RE-WORKED JACKETS OF NO RIVALS, IS THERE A STORY BEHIND OF THESE CREATIONS, ANY CORRELATION BETWEEN THEM OR EACH OF THEM IS INDEPENDENT?
The themes were born during the creation, it's a follow of our sentimental at the moment of working and the feeling of each unique vintage piece that we have in our hand, so they are in somehow has their own connection but born independently.
ARE THESE FIVE ARTWORKS AVAILABLE ALSO ON CANVAS TO COLLECT?
The idea behind the project is "Art to Wear" so it's not available on traditional canvases.
WHAT IS YOUR PHILOSOPHY OF FASHION?
Our philosophy of fashion is to be free out of all the "fashion system". Wear what we instead of following the big trend blindly.
ANY EXCITING PROGRAMS THAT WE CAN EXPECT IN A SHORT FUTURE?
We are working on the new collection of hand-painted vintage sweatshirts now, and in the future on all sort of vintage clothing that will inspire our creativity.
BACK TO OUR TRADITIONAL QUESTION TO CONCLUDE THIS INTERVIEW: WHAT FRUIT CAN REPRESENT YOURSELF MOST?
RB: No reason but I feel like coconut if one day I will become a fruit!
AE: I am more dragon-fruit which always catch my eyes through all frit by its shape and appearance. You can never image its tasty by actually try this fruit. No fixed frame, no stereotype. 🥥