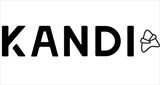 Hoddesdon, UK
Kandi Clothing is an independent menswear brand established in 2012 with a desire to provide high quality...
Original Sweatshirt! - MUST HAVE
We are proud to be continuing one our all time best sellers. As with all of KANDI Clothing's products, the quality and comfort is second to none! This 'Original' sweat shirt in Black with a White design will make a great addition to any wardrobe.
Try it and see! We are not just confidant you will like it, we know you will LOVE IT!
https://marketplace.asos.com/listing/sweatshirts/original-badge—-sweatshirt/2095023