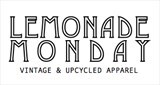 ESSEX, UK
At LEMONADE MONDAY We love vintage and up-cycled fashion and we also believe good clothes should never...
LEMONADE MONDAY VINTAGE & UP-CYCLED APPAREL || WHAT'S A LEMONADE MONDAY? 🍋
Hay there, Lemon Lovers!
Let us introduce ourselves.
We are Lemonade Monday, the new home of vintage and up-cycled apparel! We love amazing fashion and are always on the look out for the best hand picked fashion finds!
But our search doesn't stop at just FRESH AF style; we're also searching for the most durable, versatile and transcending styles! Because we believe that the clothing we wear should last more then just a season and be loved for more than just a trend!
Each year we send 26 million pounds of clothing to landfill; that's the one garbage truck of textile 'waste' being discarded every second! With most of us wearing an item of clothing just 7 times before we throw it away. By falling out of love with our clothes, we've turned fashion into one of the most polluting industries, second only to oil! Yikes
So what can we do? Well, how about we just start by treating our clothing like the best friends they really are?
Our clothing should be treated like our best friends; our clothes are our personality cheerleaders! They tell our story before we even speak; they give us confidence when we need it and the ability to take on the world! We've made it our mission to only ever stock clothing, which has been given a new lease on life, and are ready to be your new besties!
We're putting the LOVE back into PRE-LOVED!
OUR PLASTIC POLICY || Plastic just sucks right? We are working towards an entirely plastic-free production and packaging line, we promise to never send you anything single-use which can't be recycled or composted! Right down to our pretty-in-pink packaging bags, made from 100% recycled materials, which can be composted after use.
We can't wait to get to know you all better! As a welcome gift, we want to give you all 10% off your first order with promo code LEMONLOVER
WELCOME TO THE LEMONADE MONDAY UNIVERSE!
For the 411 on new upcoming pieces and the latest Lemonade Monday news follow us on INSTA @lemonade_monday
Email | shop@lemonademonday.com
For more info on OUT STORY, OUR MISSION AND VAULES as well as out transparency guide, you can read the full disclosure at lemonademonday.com
LOVE
The Lemonade Monday team
x