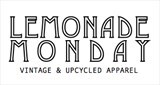 ESSEX, UK
At LEMONADE MONDAY We love vintage and up-cycled fashion and we also believe good clothes should never...
WE'RE FEELING FESTIVE! | HERES SOME FREE UK SHIPPING UNTILL THE 31ST JAN 19
WE'VE GOT THE FESTIVE VIBES!
As a little gift from the Lemonade Monday team we've decided to give everyone FREE UK shipping!
AS WELL AS THAT!!
We're also giving away a FREE Printed Eco Shopper bag and an reusable metal straw with a handmade travel pocket!
Thats over £20 worth of FREE GOODNESS in your pocket!
GET IT WHILE ITS FESTIVE!
All offers end 31st January 2019
LOVE
The Lemonade Monday Team