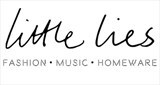 Perth, UK
Little Lies is inspired by great tunes and beautiful things. We love 70s boho style, anything to do with...
⚡️ WEBSITE SUMMER SALE ⚡️

We just went into summer SALE on the Little Lies website n holy sh*t you can get some goodies… final pieces from some of our best sellers, plus some of our favourite summer key lines now up to 50% off… 💣
We are also going into the ASOS Marketplace 20% off weekend running from the 9th to the 14th of August…. Bargains everywhere!!
CHECK THE WEBSITE FOR WHAT'S LEFT…
OR
CHECK OUT LITTLE LIES ON ASOS BOUTIQUE
Big Love,
Little Lies
X