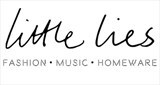 Dundee, UK
Little Lies is inspired by great tunes and beautiful things. We love 70s boho style, anything to do with...
Cool Girls Wear Colour | Guest piece by Julia Martin
There comes a time in all of our lives (and wardrobes) where we take a look in the mirror and feel bored. Bored, tired, washed out and quite frankly confused at our appearance. I like to call this time 'Summer.' If some mornings it feels as though you've been wearing the same black on black but you can't find the specific black black thing until you end up drowning in a pile of, well, black…I feel you. The sun is splitting the trees (except if you live in Scotland, but work with me), some of your more adventurous colleagues are already rocking the traditional 'thong shorts and neon jelly shoe' combination, you have various social gatherings and festivals to attend, yet your wardrobe still resembles that of Morticia Addams. What to do in this situation? For someone that wears black all the time, the idea of colour feels alien at first, especially when your only problem up to this point has been does this black match my black…? Fear not, Princess of Darkness! There is a way to freshen up your look up that doesn't insult your current wardrobe and will bring out that colourful bohemian babe that we all know is in there. Somewhere.


Introducing…the ultimate Queen of Cool. Front woman of punk/new wave band, Blondie, and a regular at Studio 54 (in case you live under a rock), Debbie Harry is known for her oozing sex appeal, fierce attitude, and even more fearless approach to style. When sifting through endless photos of the blonde bombshell, it becomes apparent that for the most part she ditched the stylist and dressed herself in the best possible way. Her level of cool is authentic to the core and this is reflected in her band t's, animal prints, black leather and overall mix n match attitude to fashion.

Graphic customised t's, black leather shorts and knee high socks. Bold coloured leotards paired with stripes. Punk leather jackets adorned in badges, with fluffy pastel jumpers underneath. Oversized band t's worn as mini dresses, or paired with disco pants or leather trousers. So perfect the art of the moody smoulder, mess up your hair and get on that leopard print cat suit. You are a fierce, bad ass mother fucker who is experimenting with colour. AND ITS ALL OKAY, YOU LOOK LIKE BLONDIE.

A drum roll please, for the ultimate Queen of the grunge-glam-punk look, Alison Mosshart. Forever appearing messy and dishevelled (in a good way), her style is noticeably undone but remains fashion conscious and on point.
A fan of fur coats, ripped jeans and ankle boots, Alison is a girl after our own heart. Ripped t's with leopard print cardigans. Basically rip everything that you own immediately, all in the name of being grunge glam. Oversized is the key, with colourful check shirts and floral prints that go perfectly with skinny jeans and messy pink hair. Can we just take a moment to appreciate that beautiful pink barnett that she had going on for a while? Must remember: when in doubt, dye your hair pink and do it badly.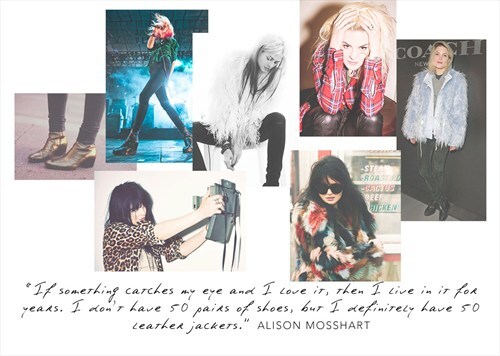 Leather trousers, coloured silk blouses and gold boots. Let's face it, if you own a pair of gold boots you're basically going to look cool as fuck no matter what you wear. Green leather trousers with black tops, pink blouses and fringed leather jackets. JUST GIVE US ALL THE LEATHER ALREADY!!!


And last but not least is Queen of the 90s, the original loud and proud grunge-girl, look no further than Courtney Love. Slip dresses with chunky boots, ripped fishnets with babydolls and heroin chic with a tiara on top.
A fan of silk, nude tones, and sugary sweet pinks, Courtney moved away from the stereotypical all black punk persona and instead defined a new era of fashion that continues to inspire the likes of Yves Saint Laurent. Corsets, underwear as outerwear, kimonos, boyfriend shirts with stockings, chokers, fishnet tops with pastel skirts, there's an element of romance to Love's pseudo gothic style.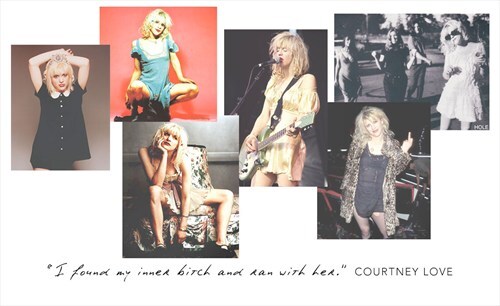 Basically, if your tights aren't ripped and your make up isn't smudged, you're not doing it right. Be right back, I'm going to raid BHS for their finest pink nightie, rip my stockings and get this princess the tiara she deserves all in the name of rock n roll swagger.
Team your band t's with knee high socks, your leather trousers with silk blouses and your floral slip dresses with ripped tights and black chokers because it's official. Cool girls wear colour. And so can you.