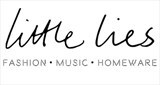 Dundee, UK
Little Lies is inspired by great tunes and beautiful things. We love 70s boho style, anything to do with...
Herald Fashion Awards NOMINEE!
We are SO excited to announce that our site Little-Lies.com has been nominated for the Best Online Newcomer award at 2016's Herald Fashion Awards!!
We couldn't be prouder to have been picked out from Scotland's incredible online talent and receive an awards nomination just one year into business. There is a plethora of talent in the fashion and creative industries across Scotland, so to be recognised as on any kind of level alongside them is a huge compliment!
Good luck to all the finalists, we can't wait to get our best dresses on and hang out with you at the big event!