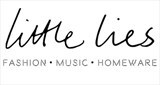 Dundee, UK
Little Lies is inspired by great tunes and beautiful things. We love 70s boho style, anything to do with...
One Year On
Well, Happy Birthday to us! That's right, Little Lies is one whole year old. It's insane. Complete madness. I've never known for a year to pass by in such a blur, or to squeeze quite so much into twelve little months. But we've done it.
We began this journey (or hike, trek, marathon… whichever you wish) with nothing but a love of beautiful things, music, and a tonne of goals, and we're so proud of how much we've managed to achieve. From the beginning we never wanted to be just a website, we set out to create a place where you belong – somewhere you can build your own personal little world of discoveries and feel a part of our weird little gang. Going by the huge amount of you who have followed us on social media, signed up to our mailing list, created wish lists, read our blog posts, and of course shopped with us … well it seems we're doing something right.
From when the idea for Little Lies first came about, at the heart of it all was the aim to bring our own community together, to create a platform for independent design and a place to find new and exciting products. Maybe you don't know this, but the majority of our homeware is sourced from small companies across the world on a Fair Trade basis, allowing us to bring you authentic and ethical pieces you will treasure and adore. We also work with UK based artists and makers to bring you designs exclusive to Little Lies. Creating new and exciting things is something we're passionate about, and we make sure to bring you the coolest stuff we can as often as you want it!
As well as indie labels (that insane mermaid sequin biker jacket is made right here in Scotland), we set out to bring our favourite brands to the UK, and I'd say we started with that in kickass style. Check out some of the brands we've brought to you plus other cool stuff we're proud to have achieved this year!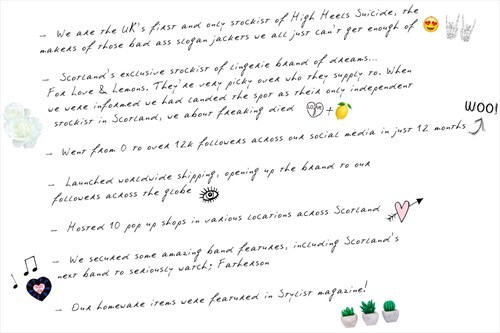 Alongside all of that stuff, Little Lies prides itself on next level customer service. We were determined from the outset to ensure that people who shopped with us felt ordering with us was something special, and so we thought about every step of the process – taking extra care in wrapping your orders beautifully and making sure we're on hand whenever our customers need us. But to be honest, you've made it easy for us… you guys are just so damn nice! We fully intend to continue rolling out this ethos across all projects on our horizon, and so if you haven't shopped with us yet – go for it, we'll look after you. Promise.
Although July is only just coming to a close and we're still awaiting a proper summer, in the retail world that means Christmas (WHAT) is at the forefront of our mind. Even though we made damn sure last year that our product selection was the thing of a Christmas gift shopper's dreams, we still couldn't believe just how insanely good our first Christmas was! Girls, tagging your partner's names in our social posts genuinely worked – the sheer number of log ons and orders placed after you guys did this is monumental proof. And with the items we have lined up to arrive for the Christmas shopping period, you're gonna want to remember that. We've been doing the leg work for you already and have plenty of beautiful things coming at you that stand out from the High Street 'gift section' – ie novelty everything. But anyway, let's move on from that. Nobody wants to be talking about Christmas in July. Particularly when you've been talking about it since May (UGH).
So, we're picking up the pace and things are moving fast (is it possible to move faster than we already have? Strap a jet pack to me, I'm ready). We have so much planned over the next year – Manchester Tattoo Convention, we're coming for you – and we just cannot wait to tell you what we've got lined up. Make sure to keep your eye on the ball for news coming soon, and expect shit hot products, new collaborations, bad ass blogs… you'll maybe even see us in some mystery locations near you soon.
We're so grateful to each and every one of you for bringing Little Lies to where it's at and allowing us the opportunity to continue to grow what we've created. Whether this is your first visit to our killer site, or you're a regular to our blog (and our checkout), you are what makes this business work. When you shop with us, you are growing our lives and helping us to build something we really believe in. I'll never forget heading off on our first buying trip in a shit heap van that struggled to get to the end of the street, never mind a four hour drive away. To have evolved from that stage less than a year into being in business is something I'm super proud of (and seriously grateful for).
And so, we're all set for another manic year ahead with Christmas, some skully Halloween goodness and plenty of pop up shops, new collaborations, featured artists, guest blogs, plus lots and LOTS of clothes coming your way.
It has been incredible journey so far, and one we're only just starting out on. So watch this space, cause we sure as shit ain't done yet.
Big Love,
Jade
Owner & Dreamer at Little-Lies.com