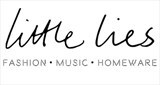 Dundee, UK
Little Lies is inspired by great tunes and beautiful things. We love 70s boho style, anything to do with...
Time for a Concept Store…
It's time. Little Lies is taking a step out of the virtual world and dipping its toe in the real world for a change. As of Friday night, you can come down to our brand new Concept Store to hang out with us and shop in REAL LIFE.
Come see us at the Abandon Ship unit on Exchange Street in Dundee, Scotland from 19th May to 10th June, to experience the Little Lies brand for real… check out our home decor, try on some beautiful clothes, listen to our tunes, and be weirdos with us!
We're so excited to be taking Little Lies out of an office and finally making our virtual ideas physical. Come check out the launch party this Friday night from 6pm til 9pm, (think bubbles + balloons). Then make sure you watch this space for deets of further events.
See you there, team. It's all happening…