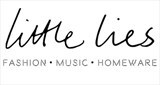 Dundee, UK
Little Lies is inspired by great tunes and beautiful things. We love 70s boho style, anything to do with...
Welcome to our ASOS Boutique!
Welcome to Little Lies… and welcome to our Blog!
We're super excited to have launched and we have SO many amazing things coming your way!
We'll be bringing you a bangin' mix of products across a whole heap of brands – from the best little indie makers we've tracked down who hand make exclusive items for us, to big international labels that are tough to buy in the UK, alongside show stopping Scottish labels… we've curated a collection of the best pieces that we know you'll love. New products will be added regularly, so keep your eyes peeled for those. (sign up to our mailing list here if you want to be first in the loop when new stuff drops!)
On the blog, we'll be bringing you playlists, features on new bands we reckon you should check out, style chat, outfit inspo, our favourite products and loads more! We also have tonnes of guest blogs set up, so watch out for those coming your way.
As ever, if there's any artists you want to see featured or products you want to see, don't be scared to get in touch! We love hearing from you, and we want Little Lies to be as tailored to you guys as possible. Giving you what you want is what we're about!
So, happy browsing, happy listening… and happy shopping!
Big Love,
Little Lies
x
Little-Lies.com