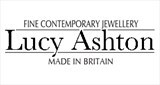 Gloucester, UK
UK born designer Lucy Ashton took her passion for jewellery and turned her talents into a business. Experimenting...
Hello from Lucy Ashton Jewellery
Hi thanks for popping by to my new boutique.
Here you will find beautiful sterling silver jewellery handmade with love. I will be updating my boutique regularly with new products so make sure you favourite my brand to stay updated.
xxx