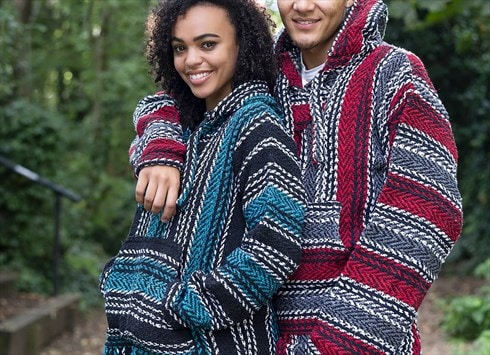 Manchester, UK
MADEINMEXI.CO was founded in 2018 with the plan to bring baja hoodies and other unique products from...
7 Reasons why you need a Baja Hoodie in your life
Baja hoodies, also know as Drug Rugs, are a staple fashion piece for stoners, music festival goers, hippies and anyone who thinks they can rock the look. That means you by the way! I am going to list 7 reasons why you need to get yourself a Baja Hoodie
1. It is cold and you're going to need something warm to wear this winter, right?
Yep, Baja Hoodies are soft and snuggly so they're great for wearing in the winter, especially during cold nights. They are even worn in Mexico by locals who live in mountainous areas. These places can be cold all year round so if Baja Hoodies work for the them then they will certainly work for you! I once heard a smart Norwegian say, "there's no such thing as bad weather, only bad clothing". Wise words to our ears!
2. You're gonna look super cool!
There is a reason why the Baja Hoodie is still a popular fashion item. Like an old pair of jeans, you will always find the right time to wear it. The different colour options let you show off your unique style and there is no question that you'll be looking and feeling good when wearing you Baja Hoodie. So, if you feel like giving off hippie surfer vibes then jump on the Baja Hoodie train.
3. People will compliment you
This is related to the point I just made but it's important so I'm giving it a extra special mention. I already said you will be looking great and you'll know it too from other people's reactions. In fact, it won't be long before they're asking you where you bought it. You will be the one that sets the fashion trends in your group of friends though you probably already do if you're contemplating buying a Baja Hoodie!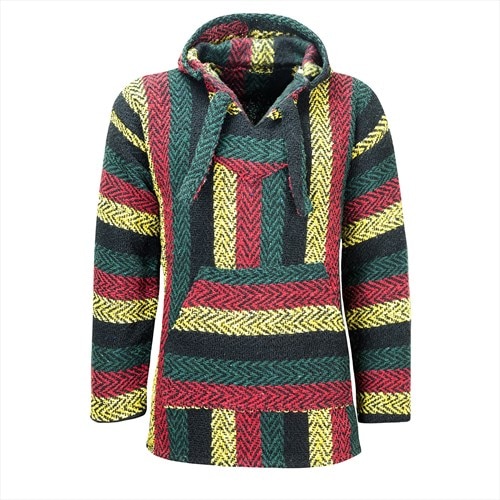 4. Entwine yourself in Mexican culture
Not many people know this, but Baja Hoodies originate in Mexico. Young entrepreneurial Mexican locals noticed an uptick in American surfers visiting Baja California to explore the beautiful Pacific coast and the secluded waves. Surfers love nothing more than having a whole surf break to themselves and Baja California offers countless options. The locals saw an opportunity and fashioned Baja Hoodies as a souvenir for the tourists to take home. This explains why the Baja Hoodies is synonymous with California surf and skateboard culture.
5. Your significant other will love it.
In fact, they are going to like it so much that they will probably steal it forcing you to buy another one. That's really not a bad thing as there's nothing cuter than couples wearing matching hoodies. Don't believe me? See for yourself…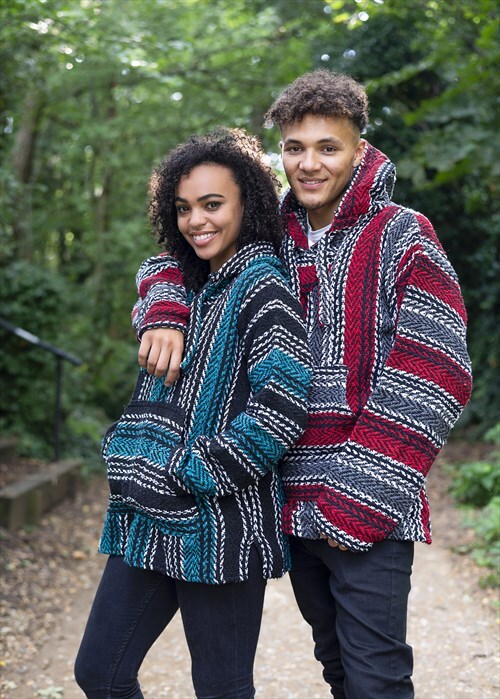 Cute Couple in Matching Baja Hoodies
6. Baja Hoodies help the environment
You can even do your bit for the environment by wearing a piece of eco-friendly clothing. Baja Hoodies are made from reclaimed fibres. These fibres come from off cuts of fabrics that would otherwise have been disposed of. These off cuts are recycled into new yarn which is then turned into a Baja Hoodie. We live in an era of fast fashion where clothing is often treated as disposable items. Baja Hoodies help buck that trend by using sustainable materials that help preserve the planet.
7. Wear it during all seasons
Baja Hoodies are not just for winter. In fact, they are great in spring and summer too! Your Baja Hoodie will be your go to hoodie for when you are hanging out by the campfire on a camping trip, for wearing at a rave or music festival or for strolls on the beach during the evenings. They are so incredibly versatile, yet they still ooze confidence and coolness. They truly are unique, and you should definitely get one.
Conclusion
So, there you have 7 reasons why you need to get a Baja Hoodie. The number 7 is often used to denote spirituality and wholeness, so it makes sense to leave off here. Let us know in the comments what you liked about this article and even write us back with a photo of your Baja Hoodie.
You can browse our complete collection of Baja Hoodies and Drug Rugs here
To learn more about Baja Hoodies and Drug Rugs see the blog post we made .
Peace
PS this article was already published here