VAT No: 851801438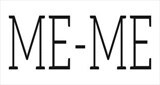 Stockport, UK
Our clothing is carefully developed and designed by our in house creative team, and styled for the women...
NEW YEAR, NEW ME-ME
As Christmas fever is setting in all around, the fashion world is always looking ahead – and that is no different for us at Me-Me. Come this January, we are evolving, we have a shed load of new shapes and original styles to drop, and we want you, our customers to be part of this with us.
In aid of this, we are sharing 'Sneak Peaks' and 'Coming Soon' posts on our Instagram, so all of our followers can be part of the new journey we are taking in the New Year.
Follow our Instagram – @shopmemeuk to keep up to date with our latest.
"Https://www.youtube.com/watch?v=VwthqcVwSVs"
A NEW ME-ME IS COMING, AND WE INTEND TO MAKE A SPLASH – YOU CAN EXPECT OUR NEW YEAR DROPS TO BE COMMANDING, UNAPOLOGETIC AND ALPHA IN EVERY SENSE OF THE WORD – WE ARE EMBRACING EVERYTHING THAT ENCOMPASSES US AS A STRONG, FEMALE BRAND.
In line with this, we are looking for new bloggers and brand ambassadors to help represent our image and spread brand awareness. All good things start small, and with the help of our customers and influencers, we hope that the ethos of Me-Me will thrown around like tinsel at Christmas, so that this time next year our team of Alpha's will be ever growing.
To apply to become one of our brand ambassadors or blog for us, contact us with your name, age and social media handles at: hello@shopme-me.com
Can't wait to hear from you!