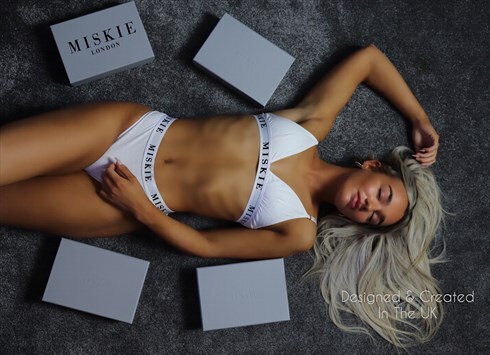 Coventry, UK
Miskie London is a U.K. designed and manufactured underwear brand creating comfortable and stylish underwear...
Valentines Day Ideas
A Happy Valentines To You, From Miskie XO
What should we do for this valentine's day? We feel you, we really do. There's a certain level of expectancy no matter how far gone you're in to your relationship. Whether you've got enough coin to take someone to Paris to see the Eiffel Tower whilst drinking some of the finest champagne is another story for another day. Money needn't be the lingering factor for valentine's day, but rather the thought.
Let us dig in, shall we?
Netflix and chill?
Thinking of going to the cinema? Why don't you make things more intimate by getting a projector to enlarge a cute movie. Get your favourite snacks – I'm not talking about an apple but it's a shout! Set up an abundance of fairy lights, vanilla scented candles and loads of cushions! Who says you can't bring the cinema to your home? Sometimes all we need is a quiet night in to just enjoy each other's company. Order some takeout, can we say pizza? And just enjoy a more chilled, cost friendly date night together that's minimalistic. It's the thought that counts rather than the amount spent and seeing your partner happy is the best gift that money can't buy.
Cooking a meal together
Who needs to go out for dinner? Cooking a home cooked meal with your significant other on Valentine's Day is a bonding experience that couples sadly don't do on the reg. Take time to find out what your favourite meals are and then try to come up with one that you have in common for instance, spaghetti bolognaise. All you need now is some nice chilled white wine on the side with loads of cheese (for all the cheese lovers out there) and then bob's your uncle. Ever been out for a meal where the waiter tells you to say 'stop' to the amount of cheese? It's a little embarrassing, especially when you wanted more but opted for less. How about one person gets the food, the other gets the wine and sets up the table with some candles. Great! It's a date! We'll see you for 7pm.
Going out for a meal where you had your first date
This will score you extra brownie points, which will help you later on (wink, wink). The nostalgia of eating out where you went for your first date will bring back some memories and will also remind yourselves of how far you've come. S'cute right?
Go sightseeing
It's a bit random, but it can be a day out packed with fun, food and being in each other's company. For example, if you're not too far from London, why not take the tube and walk past Buckingham Palace, or even past the Tower Bridge! If you're a little bit on the edgey side of life, how about visiting Camden Town with markets aplenty and a busy atmosphere! They also do great food too we hear. Don't take it from us, have a gander yourselves. If you're feeling on the posh side of life and fancy some afternoon tea, how about visiting Kesington/Chelsea. Oh don't you know darling!
Going camping
We know, totally random right? Took the words right out of your mouth. Valentine's Day is on a Friday this year – this potentially means a whole weekend of one on one time with your fave person and getting to really appreciate each other as well as the world's natural pleasures to experience (no pun included).
Spa weekend
Camping is not for the faint hearted, so if you prefer more comfier scenes, a spa weekend is the perfect thing! Sit back and relax, enjoy each other and enjoy getting pampered! You'll both end up feeling fresh as ever and also having the opportunity to really see each other be content and relaxed. Which is how we love to see our partners, right?
Above are just a few little tips to get the clogs turning in your brain if you're stuck for ideas on what to do on Valentine's Day from the most cost effective (we love to save coin here when we can) to the more pricier side of life (where's the Moet girls?). We hope we've inspired you to a certain amount even if you choose a completely different idea!
Once more, we know underwear can be the perfect gift for Valentine's Day, and we don't just mean buying your 'mrs' an underwear set. One that you know she loves, and equally enough that you love to see her in. Girls, we've done it let's be honest. We buy the cutest set which flaunts our assets amazingly whilst giving you confidence and you bf a present that they get to uwrap (oops!). Our Miskie bask set in red is the perfect fit to do the job! Its got the aesthetics, comfort and the right amount of 'oh la la' you're looking for. And once more! It's perfect for the everyday gal too! So in effect we don't have to feel bad for spending money, am I right. Visit our website at www.miskielondon.com to have a look for yourselves! A set includes our triangle bralette and a choice out of a brief, hipster or thong! It's free 'standard' delivery and our Miskie box where all sets come in free! Only on Valentine's Day I hear you rhetorically ask? Miskie London loves to bring the fabulous to the fabulous so this is a standard thing FOREVER! The countdown for the day of love is beginning to start, so grab our sets as stock is limited.
Psssst! Want to show us how amazing the set looks presented to you or how it looks like on yourself? Send us your selfies, videos/pictures via DM on our instagram page @miskielondon to be featured on our stories or even on our page #MiskieLife.
P.S.S. And most importantly of all, from us to you, have a lovely valentines day!