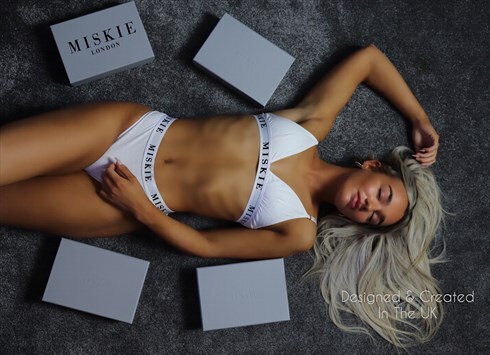 Coventry, UK
Miskie London is a U.K. designed and manufactured underwear brand creating comfortable and stylish underwear...
What's it worth
MISKIE LONDON – What's it worth?
Miskie London who?: What's the tea?
We know we're a new brand that has just recently launched into the underwear market, and with that comes questions. We're here to serve you your tea piping HOT and get into the nitty gritty. Here at Miskie, we believe in not only giving our customers a great service, with a wide range of quality underwear to tickle your fancy, but we also care about helping to bridge unemployment gaps within England (United Kingdom). All our underwear is made by a manufacturer based near Hartlepool – a demographic where there are high levels of unemployment. We not only think about you, the customer, but also the lives of people we are helping by trying to induce a higher employment rate around these areas. Pretty cool right?
Whilst designing our products, our ethos included three things, essentialism, quality and style. You know those days when you wear matching underwear and feel like you're about to conquer the world even though you're only on the way to work? We feel you girl. You may perhaps be the only one who gets to have the lovely surprise of seeing it on you that day. Who cares? We do, because it not only makes you feel like your best self, but also makes you look like your best self too. Our pieces come in white, black, grey blush pink and red in the various styles:
The fabric of the underwear is comfortable, yet breathable. You'll barely tell that you've got it on. We know the pain of having a scratchy label or a label that just wants to gatecrash your look for whatever reason. Even if you cut it out, you may still be haunted by the label or see where you've cut it. What possibly can go wrong? We've all been there when we've cut a hole into any item of clothing to get rid of it. Here at Miskie London we've done you a solid on something you didn't ask for, but know you needed – all of our underwear products are label free. You'll find the sizing along with how to take care of them in the inside at the back of all panties and bralettes. We're liking where we are going with this? Don't you?
On top of this, our elastic is not only soft, but also stretchy, durable and supportive. There's nothing worse than underwear sliding all over the place, so we've got you covered. It works with your body rather than trying to go against it cancelling out any type of unwanted, uncomfortable indents. Yes (sigh), we've all been there.
We've also made sure that our binding matches your aesthetic goal of underwear by matching it seamlessly with the rest of the garment and by also making it stretchy, it does not limit you in any way. It sounds good doesn't it? We ensure that by working closely with our manufacturer, our underwear offers a high level of quality – even to the last stitch. All sizes are standardised too, helping to offer a high end product. You can be rest assured that you can purchase your size in confidence instead of hoping that it'll fit you. Our sizes can be found via our size guide. You'll find this on our website www.miskielondon.com Or if you'd like some human interaction (because sometimes we all do) just contact our team.
At Miskie, we like to offer you the creme de la creme of presenting your purchases to your door. Rather than having underwear being unprotected in a plastic bag that does it's best to look good, ours goes the extra mile by having all products wrapped with tissue paper inside of our Miskie box as standard. So we don't have to pay extra? Of course not, and this also goes for our standard delivery. Killing two birds with one stone, literally but not literally. You'll also find find our Miskie London clothing tags attached neatly yet secured with ribbon. Helps do our bit for the planet by eliminating plastic tags.
How will I know the underwear set will look good on me?
We know that you'll look fabulous darling in our sets. On a deeper note, Miskie London is all about inclusivity, body positivity and embracing the skin you were born with. We understand that always seeing the 'typical' model modelling clothing products can not only harm your self image, but also does not help to show what the product may look like on you. You can find a variety of body types on our instagram page @miskielondon. This is where we focus on our delightful underwear for the everyday girl! Search the hashtag #miskielife or simply take a look at the instagram page. Beauty standards are cancelled!
Need anymore tea ladies?
Miss Denton X