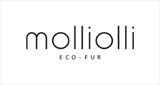 Praha, Czech Republic
molliolli is modern Korean fashion brand that cares about animals and environment, supports ethical consumption...
Detail
DETAIL | Gucci, Versace, Armani, Jimmy Choo, Calvin Klein, Ralph Lauren, Furla, Michael Kors… Every day more and more fashion houses refuse to kill animals for fashion. Faux fur today is a new fashion and luxury. As for #molliolli brand, it's also a philosophy and lifestyle.
In our collections, we use the high-quality faux fur fabric made with mod-acrylic fibers. They are soft, resilient, flame resistant and warm. The fibers absorb less water and dry quickly. They have excellent resistance to sunlight and wind. But the most important for a real fashionista, all faux fur garments of molliolli look and feel like real fur. Enjoy!
Discover the collection www.molliolli.uk
#molliolliuk #molliolli_official #ecofur #furfree #fauxfur #ecofashion #petaapproved #molliolliWORLDWIDE