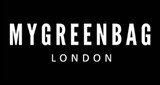 London, UK
Use code: SUMMER30 for 30% off your purchase! My Green Bag brings together the best of London Street...
My Green Bag goes to Greece!
Yes you read it right! Our bags need holidays too! So we decided to send one of our saddle bags to Greece to enjoy the sunshine and the beach!
Surely it is having a great time!
Isn't she the perfect companion for the beach? Carry all your essentials as well as look super trendy!
Check out our boutique for more colours and more lovely satchels!
MGBxx