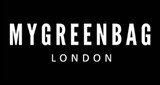 London, UK
Use code: SUMMER30 for 30% off your purchase! My Green Bag brings together the best of London Street...
New Holdall In! Shop at 10% discount!
It is in! We have been waiting for this new design to come to life. The Leopard Print Holdall is now up on our boutique!
The 1st person to buy this newest design will receive a 10% off! Use the code: LEOPARD. Be the first one to get it! http://bit.ly/1kFPbeV
MGB xx