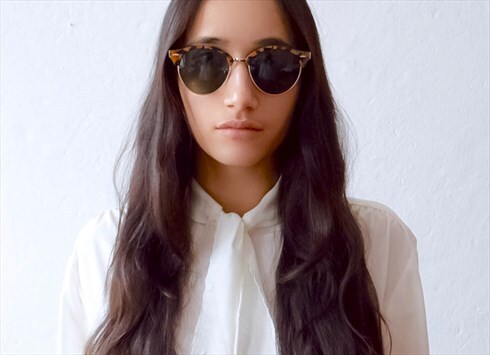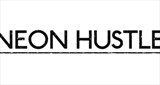 London, UK
Neon Hustle is an online vintage fashion boutique based in London / Berlin. Our unique and stylish vintage...
Best coats and jackets to invest in for your Autumn Winter wardrobe
With Summer coming to an end and Autumn just around the corner, this is a perfect time to begin thinking about which jackets and coats you need to invest in for the coming month. This blog will feature a series of articles about the must-have coats and jacket for your wardrobe. These are the styles that never go out of fashion, which makes them timeless investment pieces for any woman.
Check out the gorgeous Julia-Sarr Jamois at Fashion week styling it out in her faux fur coat.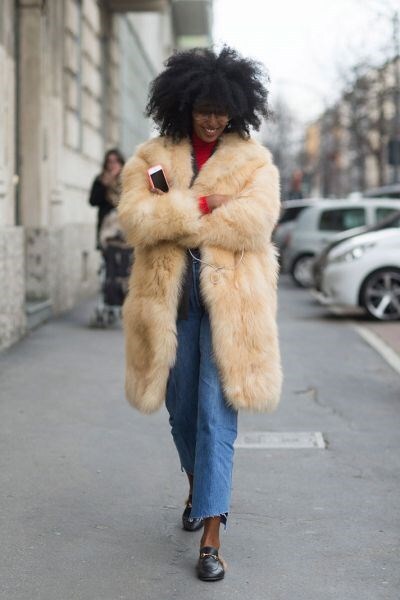 SOURCE: STYLE CASTER BLOG / PINTEREST
For the most part, my coats and jackets collection is made up of vintage items. Why? I find that for my budget and style, the quality of the clothing is much better, the style more individual and therefore, it makes sense for me to invest in an item that is better value for money, gives me a unique look while also being sustainable.
First up for this blog is the absolute must have: the faux fur jacket /coat. Fur is a subject of much debate among fashionistas. I won't go into that here. I'd rather push that, if you are careful about choosing the right faux fur coat, it will look as amazing as the real thing. WARNING: many high street brands, however, sell faux fur coats that still actually contain real fur – so be careful when purchasing from the high street / do your research before purchasing. Don't forget that you can usually get yourself a fab vintage faux fur jacket for often half the cost of the ones on the high street. We have some gorgeous faux fur coats and jackets on our NEON HUSTLE website, so go check them out here Enter link text here…
So, why do you need a faux fur jacket? Well, as Chloe Sevigny once commented, "It would be a damn shame if I lived this long as a blonde and didn't invest in some fab faux fur."....oh, and by the way, you don't need to be blonde to wear faux fur.

SOURCE: CELEBINSPIRE, TUMBLR
Every year, fashionistas are wearing faux fur and showing it off in all its glory. It's becoming more and more interesting to see the different styles coming out, with an emphasis building towards brighter, bolder, often longer length faux furs. Naturally, the high street has been following suit and bringing out more variations on the traditional faux fur, while attempting to keep up with the trend. This is simply a MUST HAVE for your wardrobe. If, year on year, the fashion leaders of the world are giving it the thumbs up, then the faux fur has to be doing something right. If your budget doesn't afford you the luxury of buying what the fashionistas are wearing, then there are some great alternatives out there on the hight street. H&M did an incredible job of getting it right with their 2015 multi-coloured faux fur coat as seen below.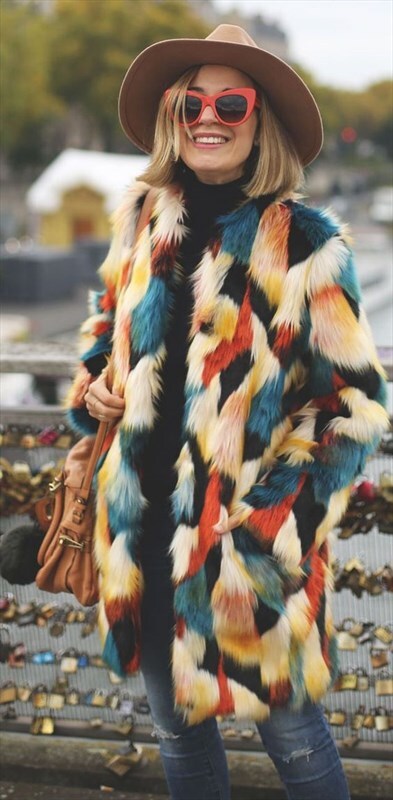 SOURCE: PINTEREST & MY SHOWROOM BLOG
Of course, I have a few vintage 70s and 80s faux fur coats tucked away in my wardrobe. I wear them all the time in Berlin / London during winter, and they always keep me nice and snug. I dress them up or down, depending on my mood or the style I want to go for. What I love most about the faux fur jacket (apart from the fact that they are super snug in those colder months), is that they are super versatile, look sexy and cool. Perfect wardrobe investment!
So, below are a few examples of some great looks to inspire you on how to wear a faux fur jacket or coat. ...starting with this incredible bold multi-coloured coat worn by the beautiful Julia – Sarr Jamois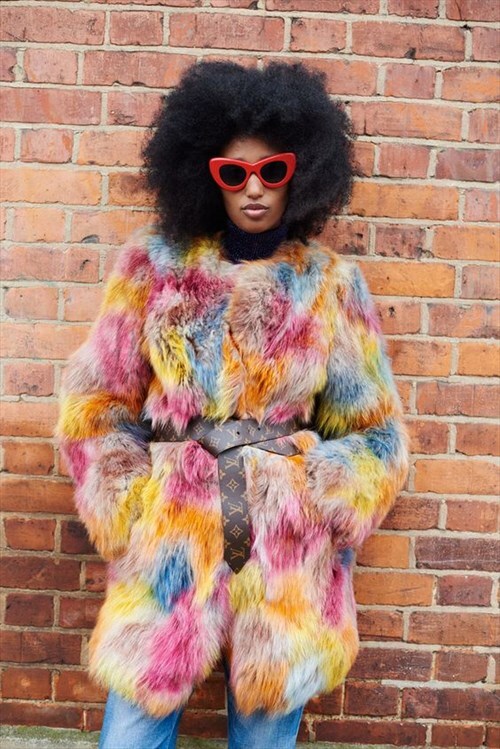 SOURCE: VOGUE PARIS ONLINE
For a great high street version of this bold, multicoloured coat from Moschino, check out Topshop's version here
When buying any vintage faux fur coat, I always check the quality of the material – to ensure it hasn't been wet, doesn't have moth holes and doesn't smell as though it has been stored away in a musty loft for decades. Of course, you can always get the jacket dry cleaned but you're usually looking at a good £20 minimum for this – so you might want to consider that when assessing the overall cost of your investment. One major problem with some vintage faux fur jackets is that they haven't been properly cared for. This can mean it ends up looking dull, the fur matted and often clumped together and the hooks rusty. Steer clear of these jackets as it's pretty tricky to get them to return to their original glory once in this state. Besides, there are such a vast number of vintage faux fur coats out there in great condition, that you will find a perfect one for you – so don't rush to buy a second rate one.
The flair and versatility of the faux fur jacket or coat is probably far greater than you imagined. Celebrity fashionistas such as Olivia Palermo, Poppy Delevingne (as pictured below), Gigi Hadid, Kate Moss and Cara Delevingne, all rock the faux fur with different styles.
Faux fur is a statement piece, and it does get you attention – but when was that ever a bad thing?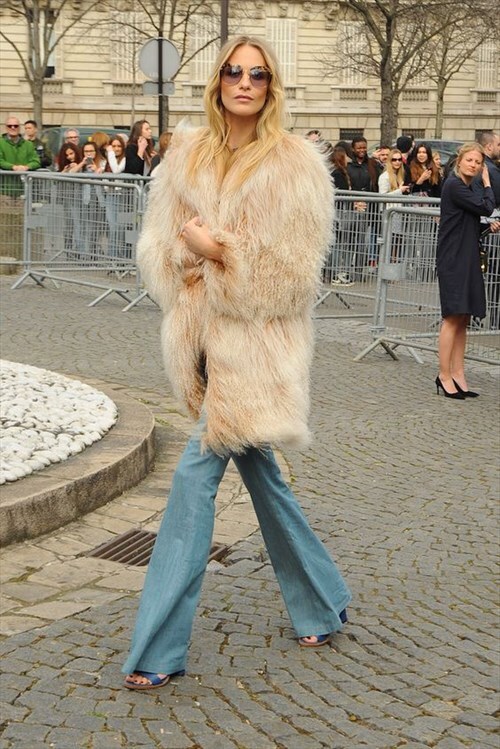 SOURCE: PINTEREST. PHOTO BY DAVID FISCHER / REX
Faux fur is such a glamorous statement piece when dressed up with some killer heels and a chic dress. Fashion icon Kate Moss shows us how to team up a faux fur jacket with an elegant maxi dress. Neon Hustle have a super chic vintage leopard print version here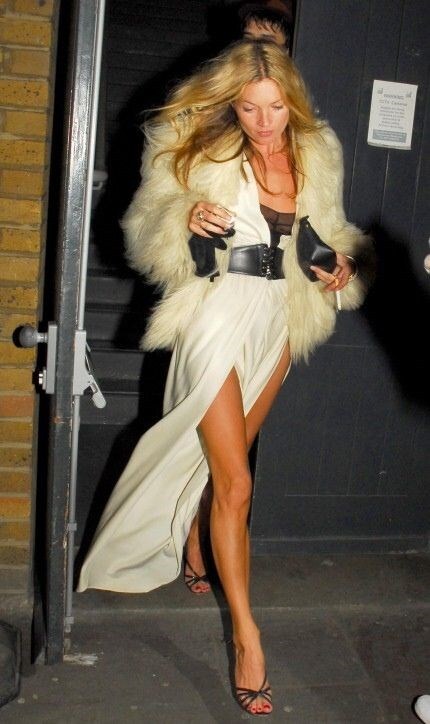 SOURCE: GRAZIA UK
Equally cool and more casual is the jeans and trainers combination, with the long faux fur coat and clutch bag. Other Stories, which is one of the better high street brands out there, have now sold out of this gorgeous black faux fur coat, but keep your eyes peeled to their website for more to come! For an even more affordable version, head over to Forever 21 to check out their black faux fur jacket coming in at a bargain £34.

SOURCE: PINTEREST
If you're after a real statement piece then opt for the bold coloured faux fur coat paired with a cool branded tee and jeans. You can also totally layer the bold coloured coats with other prints like these ladies at Milan Fashion week!

SOURCE: ELLE SPAIN / PINTEREST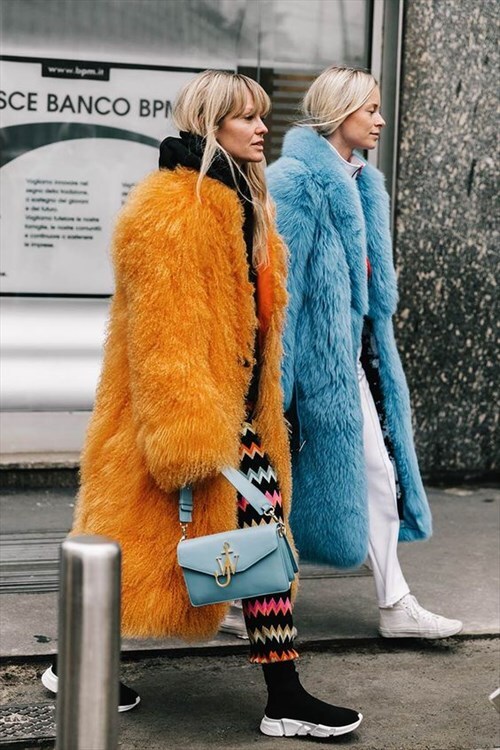 SOURCE: PINTEREST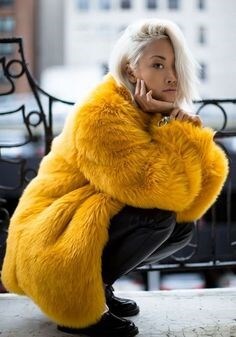 SOURCE: GLAMSUGAR.COM
While researching the best high street coloured faux fur coats, I discovered this gorgeous coat on ASOS. It's reminiscent of the mustard coat above and looks super cool. It is slightly more expensive at £140 – shipping is free worldwide!
Faux fur jackets are also great for those summer nights that drift into the Autumn. They look great when paired up with some vintage denim shorts / jeans and a retro tee. Check out Rachel Barnes Horowitz's style

SOURCE: PINTEREST

SOURCE: HOW TO CHIC BLOG
I found this gorgeous faux fur jacket from New Look These jackets come at a bargain price of £59.99, and beat similarly priced jackets on the high street.
In terms of where to buy vintage faux fur coats and jackets, you are spoiled for choice. We at NEON HUSTLE have some beautiful vintage faux furs available with more following in the coming months, but of course, you also have some other amazing vintage boutiques available to you. Rokit Vintage and Beyond Retro are obvious choices, however, Asos vintage marketplace is a treasure chest of vintage clothing
The multi coloured, chevron faux fur coat (as worn below by Barbara Martelo, Chief Editor of Vogue Spain), is a bold style statement that looks great teamed up with some leather trousers and a plain top.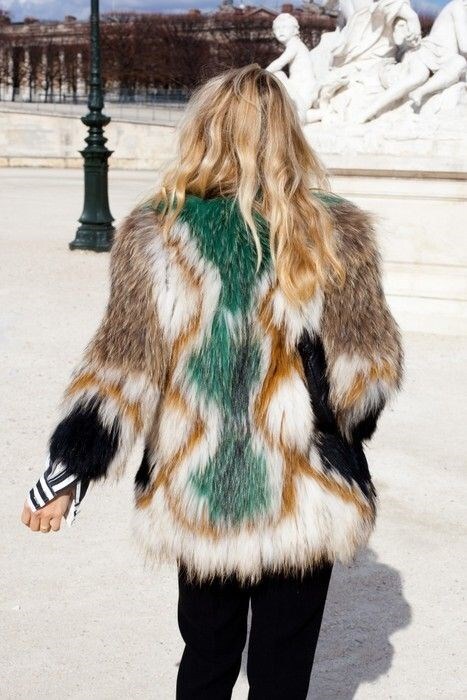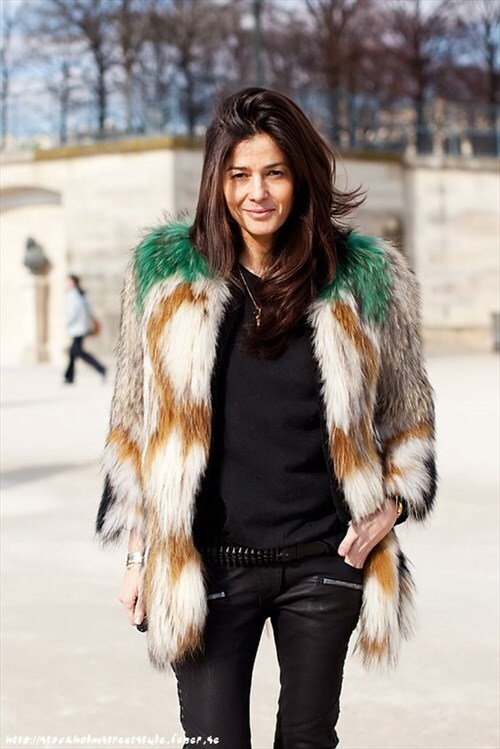 SOURCE: PINTEREST
Faux fur also add a touch of glamour to all skirts. Jenna Lyons from J CREW knows how to combine the two and look absolutely stunning

SOURCE: PINTEREST / GLAMOUR UK

SOURCE: PINTEREST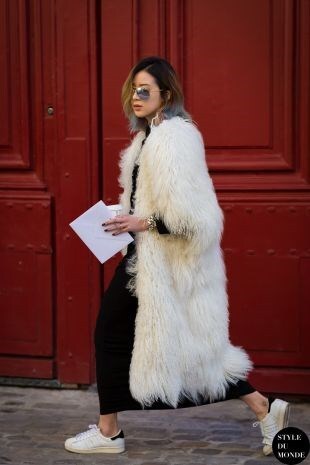 SOURCE: PINTEREST / STYLE DUMOND
So, the message is clear…if you want your style to be cool, versatile and sexy (while staying snug in those cold Autumn / Winter months)...then go find your perfect faux fur now!