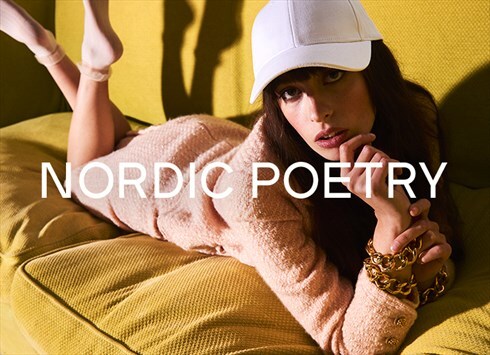 London, UK
2020 Best Vintage Store-Nordic Poetry - British Vogue Shop: 141 Bethnal Green Rd @nordicpoetry...
Ebba Zingmark wears Nordic Poetry!
The beautiful Swedish blogger Ebba Zingmark has recently published her new blog featuring an outfit from Nordic Poetry. Ebba wears our classic short dungarees with one of our new cropped plaid shirts which look great together! We asked her a few questions about blogging and fashion:
How long have you been blogging?
I think it's about 4 years now. Gosh, time passes so fast when you're having fun!
What do you hope to achieve from blogging?
One of my goals is to be able to work with something I love doing, as blogging/modelling, and getting in to the fashion business. I also want to encourage people to be aware of the environment by promoting vegetarianism and second hand clothes, and encourage people to explore and develop their own style.
What do you think of London style?
Oh, I don't know! I've never been there so it's hard to say, but I've got a feeling that it's a bit grungy/boheimian/hipster which I really like. Atcually I'm going to London this weekend so then I'll see!
Do you like living in Sweden?
Yes, I love travelling but it's always nice to get back here.
What's your favourite thing about Sweden?
Hm, probably the nature and climate. I love that we have four different seasons (the cold and dark winter could have been shorter though), and the big forests.
What's your favourite item of clothing?
That's such a hard question! But my backpack is always handy.
What are your favourite pieces from Nordic Poetry?
That's a really hard question too, since you have so many nice pieces. But I love the dungarees and the cropped shirt I got from you :)
What fashion rule do you always follow?
There's no rules in fashion!
Any fashion faux pas?
Haha, oh yes, several! But that's only because I love experimenting with clothes so actually I think it's worth it.
Favourite fashion era?
Hm, maybe the 50's… or the fashion right now. I think fashion is becoming so global thanks to the social media so there's a lot of interesting style mixes to get inspired by!
If you could live anywhere, where would it be?
Somewhere with amazing nature. I've heard New Zealand has!
What/who do you take inspiration from?
My friends, family, bloggers, magazines and all the talented persons at lookbook.nu. Also, I often get inspired by the nature!
Take a look at her new blog here:
http://nyheter24.se/modette/ebbazingmark/2013/04/18/but-you-reach-me/