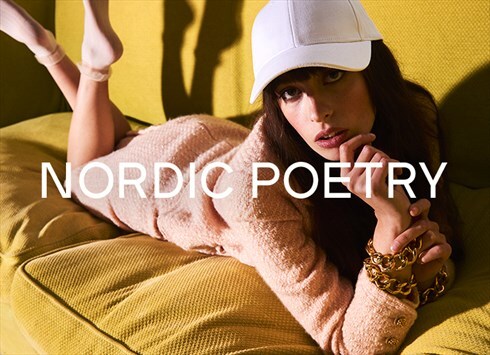 London, UK
2020 Best Vintage Store-Nordic Poetry - British Vogue Shop: 141 Bethnal Green Rd @nordicpoetry...
Famous New York Fashion Blogger Le Happy Wears Nordic Poetry
This month one of the fashion spheres top bloggers from New York, Luanna (or Le Happy), did a piece on her new Nordic Poetry clothing, featuring some ultra cute daisy dungarees and a classic Levi's Denim jacket. Luanna's style blog has become an internet sensation, even with her own t-shirt at Topshop. We asked her a few questions so we could try and get a few fashion tips!
Hi Luanna!
What's your favourite thing about living in New York?
I love that there's so much diversity in terms of lifestyle and fashion vision. I love that I can get inspired a lot and everyone has something different to share when they dress themselves.
What do you think is the classic New York look?
There are a lot of different looks. The most polished and classic one but at the same time casual is the classic pair of skinny jeans, a good fitted leather jacket, a beanie and dark lips. All black ensemble and very classy and polished.
When did your interest in fashion start?
I've been very into fashion since I was a little kid. I remember I dressed up by myself since I was three years old! My mum always encouraged me to express myself through my outfits.
Favourite item of clothing?
I would say my motorcycle leather jacket. It always looks good and adds something else to simple outfits.
Any fashion faux-pas?
Not at all. I never say never.
What are the fashion rules that you always follow?
I don't follow any specific rules at all, I just try to wear what actually suits my body. I always prefer feeling comfortable with myself over looking extremely on trend.
What is your favourite fashion era?
You gotta love the 90s!
How did you feel about Topshop UK using your imagery on t-shirts last year?
Super overwhelming. Not only Top shop but Zara! It has been two of my biggest achievements since I began to blog.
Favourite pieces from Nordic Poetry?
I'm obsessed with your dungarees and leather jackets! Actually everything cause you guys have a great eye for vintage pieces <3
Any fashion tips?
The only tip I always give is not to try too much to fit in the fashion world. I have always been myself, even if my style changes and stuff like that. It's still me and I always add my personal touch without even noticing. One should stay true to their own tastes and dare a bit more every day.
Thanks Luanna!