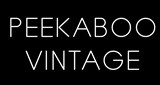 London, UK
Voted BEST VINTAGE boutique, BEST WOMENSWEAR in the ASOS Boutique awards #1 most followed boutique of...
Meet The Model...Ellie
We caught up with Ellie, (one of the latest beauties to grace the Peekaboo Vintage ASOS Marketplace boutique and a super natural in front of the lens!) to see what she thought of the shoot and pick her brains on what she'll be wearing for SS/12…
1. We LOVE your newest shots for the Peekaboo ASOS boutique…how did the shoot go?‬
I really enjoyed the shoot and had a brilliant time! The clothes were all really beautiful and are all very exciting pieces for summer.
‪*2. This S/S I'll be mostly wearing…‬*
My new levi shorts, hopefully a lot of long maxi dresses and bikini's and of course my havianas. I'm hoping to invest in some new sunglasses for the summer, I'm desperate for the new miu miu ones!
‪3. My wardrobe at home is best described as…
Filled with jumpers and quite a lot a black dresses, always the classic. I think single beautiful pieces are a far better investment and would describe my wardrobe filled with pieces I will always treasure.
‪*4. My fashion girl crush is…‬*
Kate Middleton
‪5. My favourite piece of clothing I can't live without is…‬*
My black cashmere jumper that goes with everything and will last for years…in close contest with my fathers old grey jumper which is brilliant!
THANKS ELLIE!
You can shop the newly added pieces here:
https://marketplace.asos.com/boutique/peekaboo-vintage
xXx