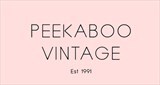 London, UK
Voted BEST VINTAGE boutique, BEST WOMENSWEAR in the ASOS Boutique awards and the number ONE most followed...
Peekaboo Vintage Launch @ Lucy in Disguise

"Come and join us this Thursday 22nd November from 7 – 9pm for the launch of "Peekaboo Vintage" at "Lucy in Disguise. Pop in for cocktails and a few special surprises! 48 Lexington Street London W1.