VAT No: 158769745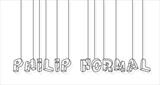 London, UK
Pop adventure. 45 Brixton Village SW9 8PR ! Artist collaborations. Awesome print. Instagram = @PHILIPNORMAL...
BRAND SPANKING NEW OLD STUFF - AND BRAND SPANKING NEW NEW STUFF AND 10% OFF FOR FEB
This happens every year, before you know it, it's the middle of February, you've started drinking again after dry January. if unlike me you managed to get past day 3, then congratulations to you.
We are pleased to announce discount code of 10% for the rest of February (on all stock live for 7 days and more, i think, it's automatic, not up to me. CODE = TENPERCENT
We have been working very hard in the Philip Normal studio. We have been customising all sorts of nice vintage, and we have been making some nice skinny joggers.
The guy in the new pics is @samneill_photo and we are doing a shoot in early March so watch this space, and follow him on Instagram.
Enjoy the rest of your Fabruary, i mean, February.
P x